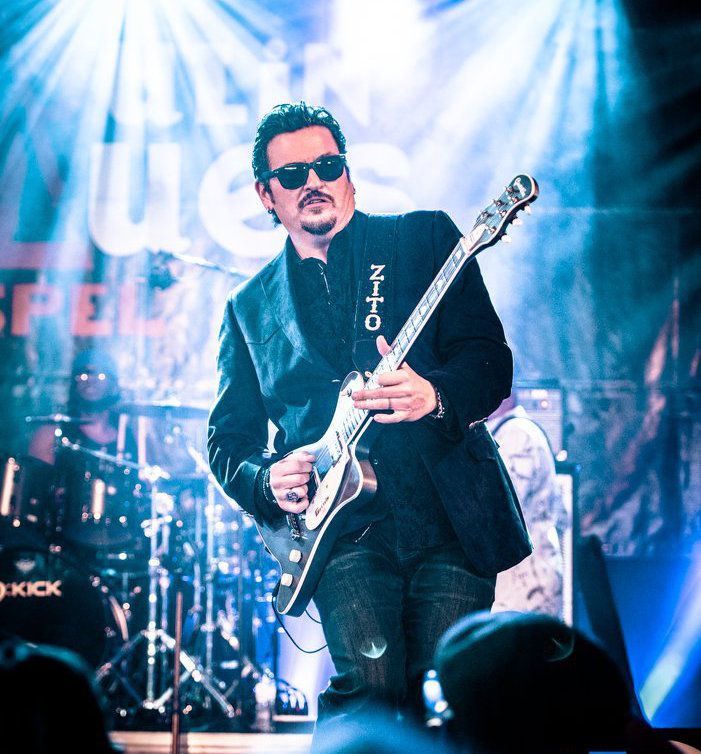 There may not be a more honest bluesman than Mike Zito, whose 15th album 'First Class Life' comes out May 11 on Ruf Records. The rocking yet poignant title track explores his journey from addiction to sobriety and then musical recognition; he is a two-time 2017 Blues Music Award nominee. "Second chance at a first class life," he sings, recalling the hard times. The Texas-based musician smiles and continues, "I grew up poor in St. Louis, and now I'm travelling the world to sing my songs."
Zito's star has been on the rise of late both solo and as a member of the Royal Southern Brotherhood, with bandmates Cyril Neville, Devon Allman, Charlie Wooton and Yonrico Scott.
As is fitting for a man with the word "Blues" tattooed across his picking hand, 'First Class Life' focuses squarely on blues with heart and chops to spare, not to mention wit and openness. The punchy "Time For A Change" conjures the tension in the world today while the exquisite Memphis-style song, "The World We Live In," which recalls BB King in its world-weariness. The electrified blues bounce of "Dying Day" finds Zito swearing lifelong allegiance to his wife. "Old Black Graveyard" sets the scene of a bluesman's final resting place and its disrepair, along with some possible supernatural influences, with Zito's masterful slide guitar flourishes driving it home.
Yet the record's darker moments are offset by cuts like "Mama Don't Like No Wah Wah," the funky crash-bang-wallop gem written with Ruf labelmate Bernard Allison about the late legend Koko Taylor. "Bernard told me about his first gig as guitarist for Taylor," laughs Mike. "Koko didn't like any effects on the guitar, she wanted it to sound natural. When Bernard made an attempt to use an effect on his guitar after playing with her for months, he got caught. 'Mama don't like no wah wah' is what he was told. That's a song to me!" The two guitar slingers trade off, trying to one up each other atop a funky blues groove, including Allison pulling out his forbidden wah wah pedal. The tongue-in-cheek "Back Problems" is a showcase for Zito's wit as a songwriter.
In addition to the press and Blues Music Award love, Zito has earned from fellow artists. Anders Osborne says, "I love Mike Zito! He's got that rare kinda voice that resonates in your soul. All his hardship, life experiences and kind heart oozes out of every note his sings. His guitar playing dances delicately between a contemporary blues virtuoso and an old fashion soul man. Mike continues to impress me with his straightforward and honest songwriting. His joy and grace shine through every record he makes. "
Jonn Del Toro Richardson -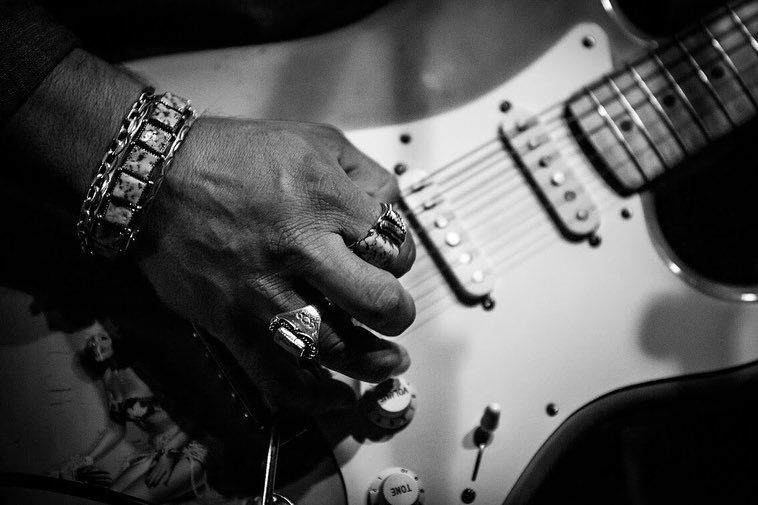 Jonn Del Toro Richardson got his start at an early age, having grown up in a musical family. His grandmother and her siblings played in a touring mariachi band playing regionally through the Southeast and Southwest. After watching his uncles play at family gatherings, he picked up a guitar in his early 20s. On a diet of Country, Motown, R&B, Classic rock and various other genres, Jonn continued learning his chosen instrument and he worked in various bands playing all types of music.
Once he heard the blues, he knew he had found his place. Richardson's partnership with Diunna Greenleaf and his role in the Blue Mercy Blues Band and the support of the Blue Shoe Project in Dallas TX led them to the International Blues Challenge in Memphis TN in 2005.  That same competition Richardson was honored with the Albert King Award, the most promising blue guitarist of the competition.
 
In 2007 Jonn played on the Grammy winning album The Last of the Mississippi Delta Blues Men.  He continues Perkins' legacy by working with the Pinetop Perkins Foundation. You can hear his influences on his various recordings and live. Richardson has had the pleasure to work with players such as Diunna Greenleaf, Otis Taylor, Bob Margolin, Hubert Sumlin, James Cotton, Bob Stroger, Willie "Big Eyes" Smith, Anson Funderburgh, Ronnie Earl, Rich Del Grosso,  and many, many more.
 
Jonn has released two CDs with other artists.  In 2011 Jonn released Time Slips on By with Rich DelGrosso to great reviews.  It garnered a Blues Blast Nomination for best Traditional Album and was named one of the top 100 blues CDs by Billboard Magazine  of 2011. In 2013 Jonn teamed up with Sean Carney to release Drivin' Me Wild.   This album also got great reviews as served as the basis for several European tours.
 
In November 2015 Jonn released his first solo Album, Tengo Blues.  Produced by Answon Funderburgh this effort charted in the top 10 blues charts for months and garnered rave reviews throughout the country.  It also and earned him a Blues Blast Award nomination for best new artist in 2016.

In May 2017 Jonn won the Blues Music Award from The Blues Foundation for Best New Artist Debut Award for Tengo Blues!
 
Jonn Del Toro Richardson continues to tour extensively both in the U.S. and Europe.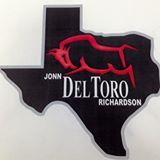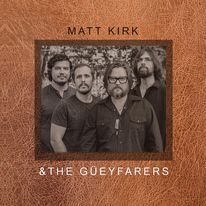 Matt Kirk and The Güeyfarers
Matt Kirk grew up in the hill country of Texas with a talented musical family. He has been playing music for as long as he can remember and was more than likely listening to his mother sing in the womb. His mother Sylvia is a long time musician and singer in the San Antonio area​ and they regularly play gigs together to this day. Their album "Matt and Ma" was released in 2022.
​
Matt's influences span from folk and country to blues and classic rock to Tejano to Americana and western swing. Individual influences include the great Levon Helm, Jimmy LaFave, Leon Russell, Doug Sahm, Auggie Meyers and Flaco Jimenez, Monte Montgomery, and Scott Byers among several others.
​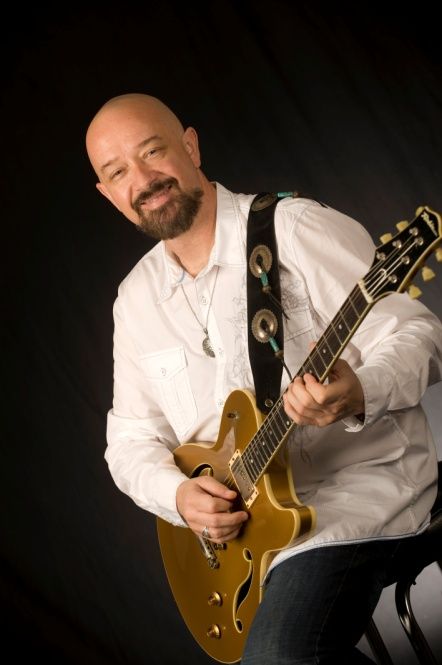 "Equal part blues man and southern rocker, Mark has just released his fifth disc entitled "Release My Soul", his most ambitious and stylistically diverse project to date. Eleven original tracks that showcase his talent to pen strong melodic songs, featuring warm confident vocals and stinging guitar work and instrumentation. If you dig your blues with an attitude, you owe it to yourself to check this one out." 
The Blues Hound, 90.1 FM KPFT Houston
"Mark May is far and away one of the most talented and passionate bluesmen I've ever had the pleasure to listen to. His songs work their way into your very soul…in a way that makes you feel naughty for liking them so much. His licks are like narcotic…you simply can't wait for that next hit." 
Sue Leighton, Program Director QFM96… Host of "Blue Monday"
Release My Soul, the 5th cd from Mark May (former guitarist and vocalist for Dickey Betts and Great Southern), is jam-packed with traditional blues, blues-rock and soulful ballads. Perfecting his craft playing rough and tumble biker bars and blues clubs in Houston, Texas for over 20 years, Mark recently returned to his hometown, Columbus, Ohio, where he performed in nightclubs before his 15th birthday. His astonishing live shows featuring dynamic twin leads and dual harmony guitar work are the perfect complement to Mark's smooth vocals. 
The Mark May Band has performed at Telluride Blues and Brews, Mississippi Valley Blues Fest, King Biscuit, Tremblant International Blues Festival, Dallas International Guitar Show, Chenango Blues Festival, Lone Star Rally, Dogs on Hawgs, Houston International Festival, and in addition, was opening act for Allman Brothers Amphitheater Tour. 
Mark currently gets heavy rotation on Sirius/XM and Sonic Tap radio. He has been featured in Blues Review, Guitar Player, Guitar World, Vintage Guitar, Tone Quest and other major publications. 
REVIEWS:

"When I heard the first CD, Call on the Blues, I was blown away! Mark is one of the best blues-rock artists to come along in years. With great singing/song-writing and guitar playing, he reminds me of everyone from Albert Collins to Stevie Ray to Carlos Santana. Hell, I even heard a couple of my licks in there!" DICKEY BETTS
"Mark May's gutsy tone, feisty pull-off licks and ground-glass vocals invite comparison to any number of Texas bluesmen. But the twin guitar leads, wah rhythm spanks, and occasional burst of fusionesque melodic complexity that pepper his second release Telephone Road, Houston, TX, make May something much more than just another traditionalist." GUITAR PLAYER MAGAZINE 
"Mark May's Telephone Road had me so captivated that it almost didn't get reviewed in Blues Revue-I was holding it hostage in my car! May is a lead guitarist with a Southern-Fried sound and jazzy technique that expands beyond the workday blues, this 12-song disc bursts with tons of musical talent." BLUES REVUE MAGAZINE
"Mark plunges into an Albert Collins song called 'Lights Are On But Nobody's Home'. Just when you think this sweet and powerful rendition of the blues song has been interpreted as well as is possible, Mark slides in with a lead that not only blew me away, he brought the feel to a level that quite frankly probably transcends what anyone could do with it." REAL BLUES MAGAZINE 
"Let's agree that if Dickey Betts calls you out to be his right hand man, you must be doing something right. We caught up with Mark fresh from the van after having played five gigs in three days, on his way to – where else? The next show." – Riverhorse the ToneQuest Report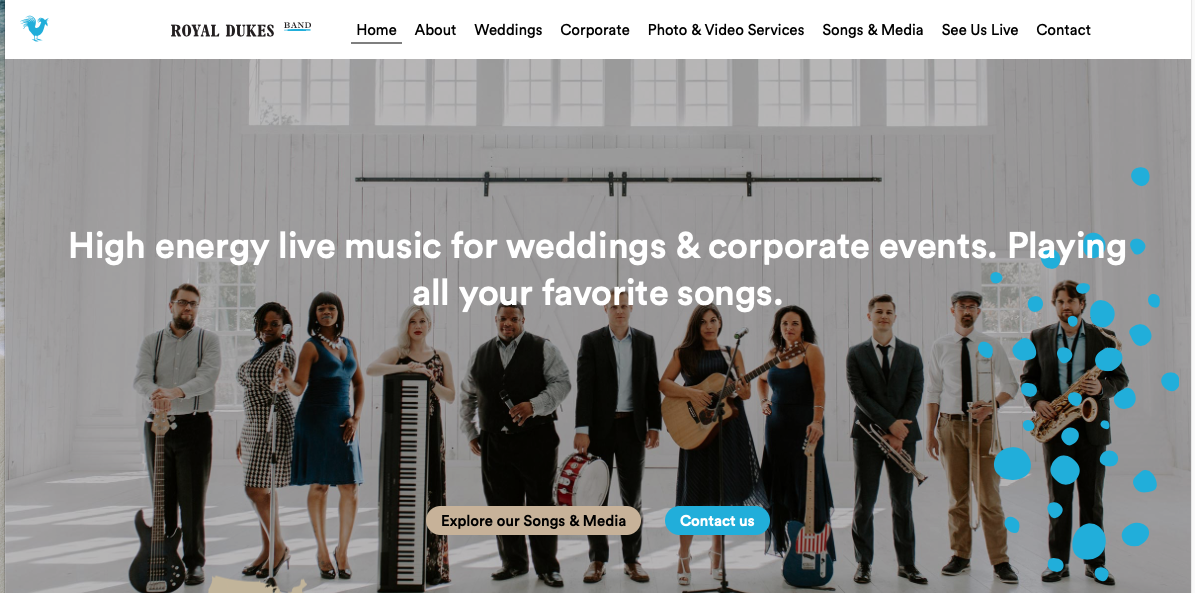 Royal Dukes 
We're live music experts, wedding enthusiasts, and party starters. We're a premium, customizable 3-14 piece band specializing in high-energy music for festivals, weddings, corporate events, and private functions - at a sensible price. We infuse every event with energy and fun and pride ourselves on filling dance floors.
BB King Experience Featuring Claudette King